Northern Beaches tree trimming services.
Pruning dead, decaying or diseased branches will improve the health of your trees by letting in more sunlight and allowing air circulation throughout the tree canopy and landscape beneath. This will not only improve the appearance of your trees and outlook, it will also reduce hazardous branches which may fall from the tree canopy above.
Regular inspection of the trees on your property minimises the risk of storm damage due to strong winds in bad weather.
The benefits of regular tree trimming and pruning
Regular tree pruning has many benefits. Some of these include:
promoting the health of your much loved trees,
making your garden look good,
improving the outlook from a balcony,
correcting defective limbs that may cross over,
removing weight from the canopy to prevent drooping, and
reducing hazards overhead.
If you have large trees on your property which are close to your house or overhanging your garden, we recommend having an arborist come and look at them to check for signs of decay or disease that you may not be aware of.
An important service that arborists offer as part of tree branch pruning is the removal of deadwood. These dead branches have dried out and become porous on the surface. It is through these entry points that disease and decay can begin to develop. By removing the deadwood this improves the health of the tree. It lets light and air into the canopy to promote new growth and gives the healthy branches the chance to thrive.
While an arborist is up in the tree they can see things that we cannot see from the ground. An arborist will climb the tree and perform an aerial inspection. This may reveal cavities which compromise the structure of the tree. If left for too long or subjected to bad weather and extreme conditions, a tree with cavities could drop large sections onto property below.
When should trees be pruned?
Trimming your trees in winter can be of great benefit to the health of the tree as it allows for new growth in the spring time. Pruning trees in summer can slow branch growth and keep the tree from growing too big. Pruning after a growth spurt, which can occur during spring, can promote food made in the tree's canopy to be used in the roots for strength and stability.
If you would like some advice or a quote for tree pruning, call Adam today on 0410 736 105.
Crown raising – what is it?
Crown raising is a pruning technique which involves the removal of the lower branches to increase the distance between the branches and the ground. This may be done with council consent for pedestrian or vehicular access, views, sun exposure and weight reduction of limbs. More information about our tree crown raising services »
For more information about our tree trimming and pruning services, contact Adam for assistance.
Call 0410 736 105  | Get a tree trimming quote »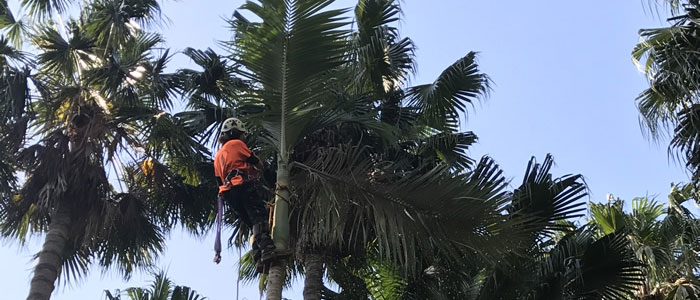 Tree pruning regulations
Trees may be pruned by up to 10% once in every 12 calendar months by certified arborists with AQF Level 3 in Arboriculture according to the Australian standard for pruning of amenity trees (AS 4373—2007). Council consent must be sought for other work such as the removal of dead or defective branches, selective tree pruning, and branches causing conflict.
Call or text Adam to get an idea of tree pruning regulations and costs on 0410 736 105.
Council regulations regarding tree pruning
We provide tree pruning services for unsuitable and hazardous trees according to council consent. It is important to check with your council for regulations on protected species of trees and the list of exempt species which can be removed.
Helpful Council tree pruning links
For advice regarding Northern Beaches tree trimming regulations, contact arborist Adam for on 0410 736 105 or get a tree trimming quote »
Precision Tree Trimming Services Northern Beaches
At Precision Tree Services Northern Beaches we care about our local environment and have been proudly servicing the community for 25+ years. Our specialist tree loppers and qualified arborists have the expertise and equipment to carry out all aspects of tree removal, pruning and any ongoing maintenance you may require at your home or workplace.  Our tree care team can assess the health of all trees on your property and remove branches that may be a safety risk, whilst improving the overall aesthetics of your garden and landscaping.
Our tree removal and maintenance services include :
We aim to provide the best service at affordable prices.  If you would like to know the cost to cut down or prune a tree, call Northern Beaches tree lopper and aroborist Adam Bridger for a quote  on 0410 736 105 or complete our online enquiry form and we'll get back to you with more information.
Precision Tree Services is a family owned Northern Beaches small business.
Call 0410 736 105  | Call 0410 736 105  | Tree lopping quotes »